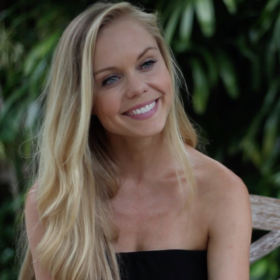 Ally Teixeira, RHN, MBA, is an American on-camera personality, actress, and entrepreneur. She is the Executive Producer and Host of food travel show Vegan on a Jet Plane: Bali, which premiered at the Manhattan Film Festival in New York City. Ally is passionate about helping others help our planet by moving toward a plant-based diet, and hopes to inspire happiness and positivity in everyone she meets.
Ally is a major travel enthusiast, visiting over 35 countries within the past decade. She holds an M.B.A. degree in International Business from Pepperdine University, and completed study abroad programs in Hong Kong, Belgium, and France.
After being diagnosed with Hashimoto's Disease, Ally learned to manage her thyroid condition with a vegan, gluten-free diet. She has since completed several nutrition programs, including a Registered Holistic Nutritionist program from the Canadian School of Natural Nutrition, a certification in Plant-Based Nutrition from Cornell University, and a Certified Holistic Health Consultant program from the Institute of Integrative Nutrition in NYC. She's taken plant-based classes at cooking schools around the world, including Bali, Indonesia and Chiang Mai, Thailand.
When not working on her nutrition ventures, you can see Ally in film, television, and commercials as a trained actor and host. She is the recipient of several awards, including Inspiring Women in a Film at Festigious International Film Festival and a Silver Telly Award. She resides in Los Angeles and serves on committees for the Screen Actor's Guild. She is passionate about comedy and is a proud animal advocate.